4-Steps DIY Headlight Restoration Kit
Using The EZ4U2 Headlight Restoration System
This Is How You Restore A BMW Foggy Headlights
The instructions below will work on BMW X5, X3, BMW 325i, 330 Bmw 525, 530, 545, BMW 7 series 745 and 760, BMW M3 and BMW Z4 and more....
Restoring a BMW foggy headlights are not much different from a Toyota or a Nissan. The principle of headlight restoration remains the same throughout. There are four basic steps
Sand the foggy headlights from coarse to fine
Polish the now clean headlights
Clean the headlights with a pre-treater
Seal the clean headlights
On an average Japanese car you can start sanding with a #400 grit sandpaper or possibly a 1000 grit and then move on to a 2000 grit sandpaper. However the German car headlights like BMW I recommend starting with #220grit sandpaper especially if the headlights are not completely oxidized looking either yellow or whitish.
If your headlights are foggy or cloudy in some areas and it is crystal clear on the other areas that means you have some existing manufacturers sealant left on the headlights. Believe it or not headlights in this condition are a little more difficult to restore than a headlight that is completely oxidized. The sealant on the BMW headlights are extremely tuff and using #400grit sometimes skids off the sealant with very little effect. For that reason I recommend starting with #220 grit sandpaper when you are restoring partially foggy headlights or headlights that are just starting to get foggy or cloudy on BMW cars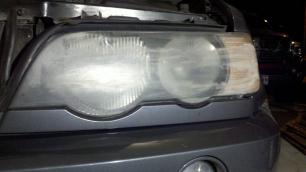 Before you get started you will need
EZ4U2 headlight restoration kit ONLY $24.95
Kit Contents:
4 pieces wet / dry sandpaper- 1 each 220 /400 / 1000 / 2000 grit
2 white and 1 blue towels, 1 glove, 1 polish, 1 pre-treater, 1 sealant and instructions.
Spay-bottle with water or water hose
Roll off blue, green or regular masking tape
A scissor
Paper towel or rags for drying and cleaning headlights and surrounding areas.
A shaded area to work comfortable
Directions for restoring BMW foggy headlights:
i. Tape around the headlight to protect your cars paint job
ii. Start wet sanding your foggy headlights with the 220 grit sandpaper until your headlights look completely dull
iii. Proceed to the 400 grit then the 1000 grit and finally the 2000 grit sandpaper
iv. Now your headlights should look nice and clean with a low sheen
Start polishing your headlights by applying a dime size amount on the white towel enclosed in your headlight restoration kit. When you finish polishing your headlights would have a little brighter look. It doesn't have to shine!
v. Spray Pre-treater on the headlight lenses and leave it for about 10 to 15 seconds then wipe dry. The pre-treater strips away all residual polish and grease from the lenses plus it opens up the pause of the headlights to accept the sealer to make an excellent bond.
vi. Finally Seal your now clean headlights to look like new. This is where the magic happens. From step ii to iv all you were doing is only cleaning your headlights. By using a high quality headlight restoration sealant like the one we provide in our headlight restoration kit make a huge difference.
Fold the blue towel from the kit and saturate about one inch of it with the sealant and apply from side to side overlapping each pass about 50%. At this point you will see your BMW headlights transformed from being clean headlights to headlights that look like new.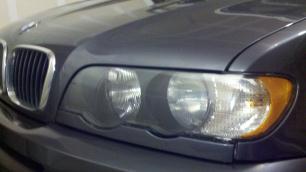 To order the EZ4U2 Headlight Restoration Kit simply click on the Order Now Button below and we will ship it out the same day or the very next day depending on the time we receive your order. So order now and have your BMW looking like new again with impressive new looking headlights. I promise you, you will be glad that you did.
So click to Order NOW