EZ4U2 Headlight Restoration Kit
The solution to your foggy headlights is our easy to use headlight restoration kit. This kit contains the same exact products we use professionally in the field doing our headlight restoration service. In creating this headlight restoration kit we have carefully considered the average person doing the restoration work on their cloudy headlights. From our eight years of experience in headlight restoration business one of our goals is to make our job of restoring headlights easier without reducing the quality of our service. So what you get in this kit is our experience of trying to make our work easier and now you can enjoy the benefits of our expertise.

NO POWER TOOLS REQUIRED

You can restore 2 or

possibly 3 cars headlights.

Your headlights can look like new
in 30 minutes or less

with our DIY
Headlight Restoration Kit.

EZ4U2 headlight restoration kit is backed by our expertise

What our years of experience in the headlight restoration business has thought us about restoring foggy headlights to look like new are 2 thing you must take the time to do right.

Take the time to Wet-sand the lens of the headlights properly because you need to get to the virgin plastic then you can reverse the process of the oxidation of the lens.
You need to have a OEM quality sealer because the headlights are made from polycarbonate plastic which are porous. If you don't seal your now clean headlights they will become foggy again in a very short space of time.

What Special About Our Headlight Lens Sealer

Our OEM quality sealer is self leveling and slow drying. The reason for the self leveling is to have a flat surface which gives you that new like finish. The reason for slow drying is so an armature can work with it and get professional results. A headlight restoration kit is as good as its sealer. Our sealer is OEM quality.

Our exclusive UV Blocker clarifying sealer is among the best in the market. It is a special formulated polymer that has UV blockers. These UV blockers protect your headlight lens and give them that crystal clear finish.

Instructional Video
EZ4U2 headlight restoration kit has 4 EZ to follow steps:
Wet-sand your foggy headlight lens

Polish the foggy headlights lens with our special fine cut polish

Clean off your headlight lens with our pre-treater spray

Seal your headlight lens to a like new finish
As you can see the difference is perfectly clear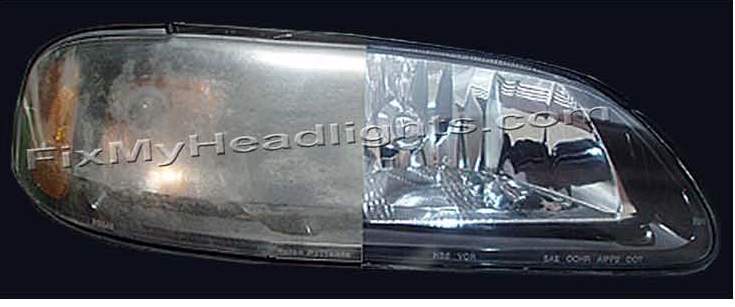 EZ4U2 Headlight Restoration Kit Has Everything Needed To Restore Foggy Headlights
Our headlight restoration kit work on all plastic headlights
You can feel confident in buying our easy to use headlight restoration kit because this is the same system we have being using for the past four years.You do not have to feel like you are going to test our kit because we have done all the testing and have being using it on all makes and model of cars.
Click here to see some of the results
Simply follow the instructions in the kit plus look at the instructional video
You can restore your foggy headlights like a pro.
We are so confident that your headlights will look like new we offer
100% SATISFACTION GUARANTEE
If you follow the instructions and your headlight don't improve in clarity by at least 90%
simply return the unused portion and get a full refund. So click on the order now button and feel confident you are getting the best headlight restoration kit in the market. Plus it's so easy to use.